Versions Compared
changes.mady.by.user Steffi
Saved on
compared with
changes.mady.by.user Steffi
Saved on
Key
This line was added.

This line was removed.

Formatting was changed.
German
In der elektronischen Personalakte befinden sich alle relevanten Informationen zu den einzelnen Mitarbeitern. Sie ist endlos historisiert, d. h. Sie können jederzeit feststellen, wann welcher Eintrag erfolgt ist und wer diesen durchgeführt hat. Auch andere Aktionen, die den Mitarbeiter betreffen, wie die Teilnahme an einem 360°-Feedback und dessen Ergebnis werden in der Personalakte gespeichert. Analog zu Ihrer Papierakte können Dokumente in der digitalen Personalakte hinterlegt werden. Alle digitalisierten Dokumente können neben den Feldern abgelegt werden, die für Sie relevant sind. So kann beispielsweise eine Haushaltsbescheinigung neben dem Adressfeld hochgeladen und dort dann angezeigt werden.
Der Umfang der Dokumente, die Sie hochladen, ist unbegrenzt und kann von Ihnen selbstständig definiert werden. Wenn Sie mit der Personalakte starten, finden Sie bereits von uns hinterlegte Standardvorgaben, die Sie aber jederzeit ändern und überschreiben können.
Die Personalakte beinhaltet alle wesentlichen Informationen über den Mitarbeiter. Dadurch ist eine vollumfängliche Übersicht für Sie gewährleistet.
Anlage einer neuen Personalakte
Um eine neue Personalakte anzulegen, klicken Sie in der Mitarbeiterübersicht auf 


Image Added. Sie gelangen sofort in die Neuanlagemaske der Personalakte.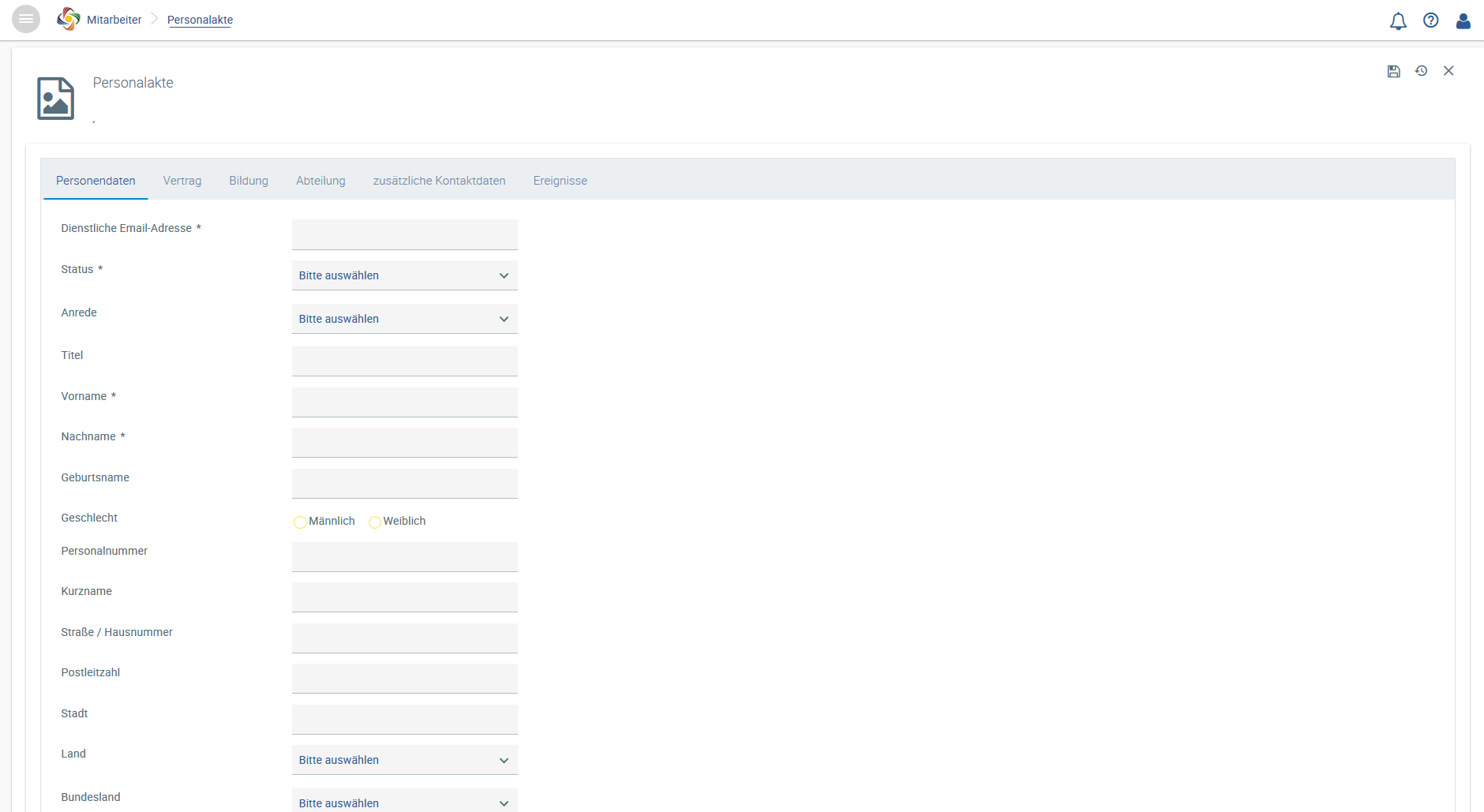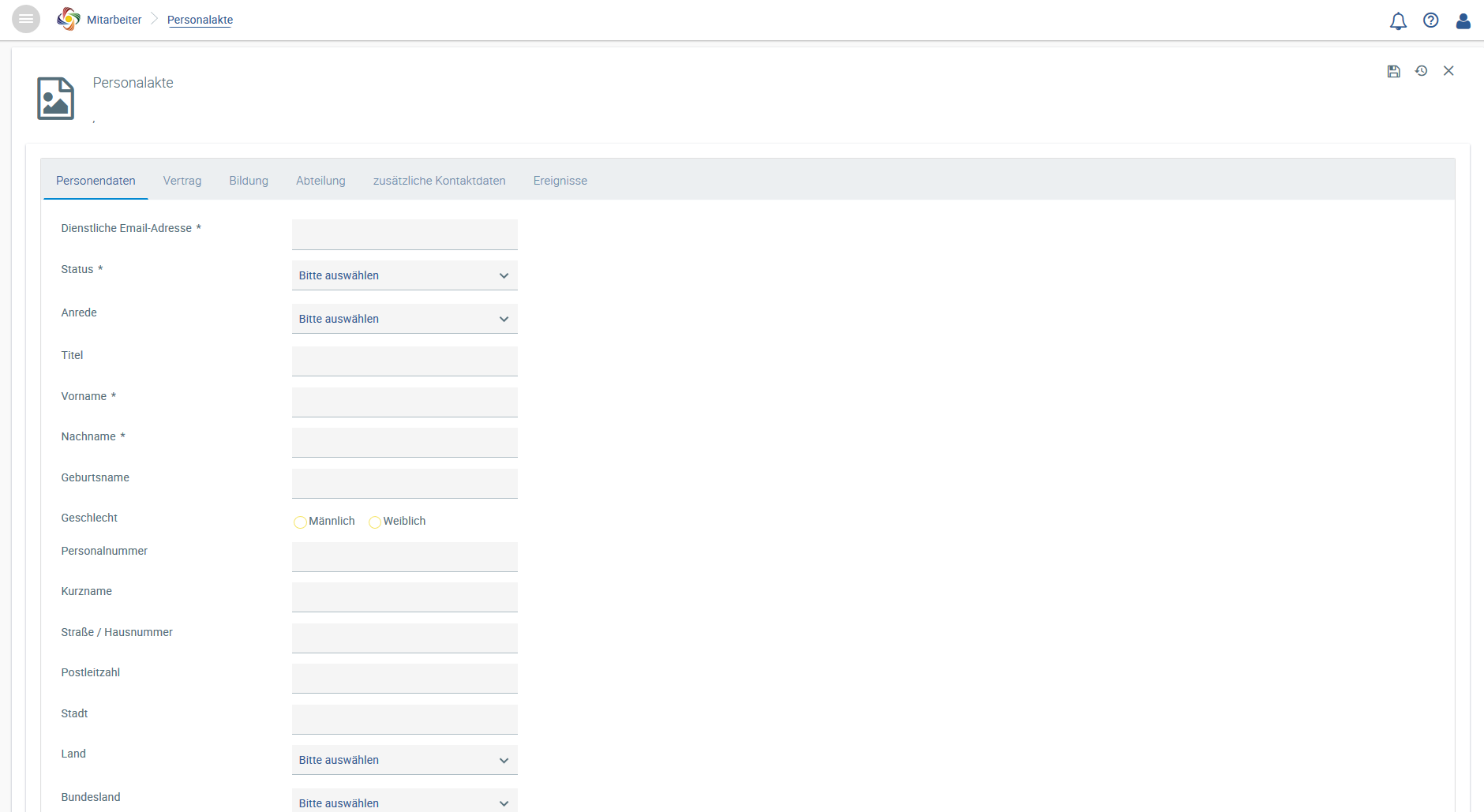 Image Added
Info
| | |
| --- | --- |
| title | Folgende Pflichtfelder müssen bei einer Neuanlage einer Personalakte gefüllt werden: |
Personendaten:
Dienstliche Emailadresse

Status

Vorname

Nachname

Sprachen: eine Sprache muss als Muttersprache deklariert sein
English
Pagetitle
Personnel files
Personnel files
All relevant information on the individual employees is contained in the electronic personnel files. The history is complete and continuous meaning that you can always discover the time an entry is made as well as its creator. Other activities concerning employees, such as participation in a 360-degree feedback and the results, are also stored in the personnel file. Similar to paper files, documents can be stored in digital personnel files. All digitized documents can be stored beside the fields for which they are relevant. For example, a household certificate can be uploaded beside the address field and displayed there.
The scope of the documents that are uploaded is unlimited and can be defined by you. When you start the personnel file, you will find recommendations that we have stored but that you can edit and overwrite at any time.
The personnel file is complete and contains all the essential information on the workforce. This ensures a comprehensive overview.
Creating a new personnel file
Please click on  

Image Removed in the workforce overview to create a new personnel file. You then immediately access the mask for creating a new personnel file.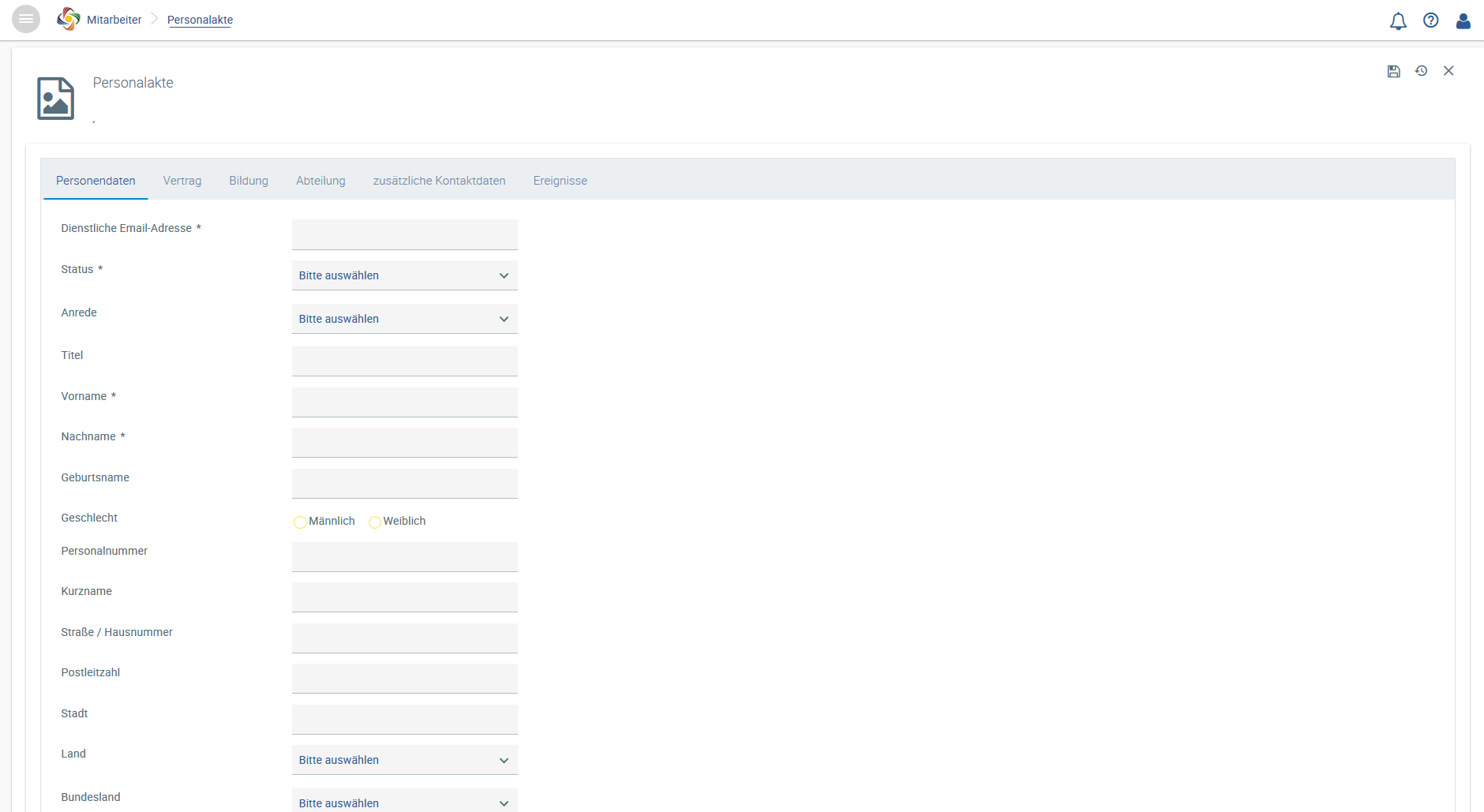 Image Removed
Info
| | |
| --- | --- |
| title | The following mandatory fields have to be filled for the creation of a new personnel file: |
Personal information
Business e-mail address

Status

First name

Surname

Language; a language must be defined as the mother tongue
German
Bearbeitung einer Personalakte
Mit einem Klick in der Mitarbeiterübersicht auf den Mitarbeiter gelangen Sie in dessen Personalakte.
Um Änderungen in einer bestehenden Personalakte vorzunehmen, wählen Sie den gewünschten Tab, z. B. im Bereich Personendaten, aus und nehmen Sie die Änderungen vor. Die Speicherung der Änderungen erfolgt nicht automatisch – hierzu müssen Sie

Image Addedbetätigen.
English
Editing personnel files
You can access a personnel file by clicking on the employee in question in the workforce overview.
To edit an existing personnel file, please select the tab required, e.g. in the section Personal information and make the changes. The changes will not be stored automatically, but

Image Removed  has to be used for this purpose.
German
Info
Werden Teilnehmerdaten (z. B. Abteilung, Name) bei einer erneuten Umfrage geändert, wird auch die jeweilige Personalakte um diese Daten überschrieben. Einzig die Emailadresse ist nicht änderbar, da sie als individuelles Merkmal eines Mitarbeiters fungiert.
Bitte beachten Sie, dass Sie die Abhängigkeiten (z. B. Vorgesetzter, Kollegen) manuell anpassen müssen.
English
Info
NB:
If a participant's data (e.g. department, name) have to be edited for a new survey, the data will be included in the respective personnel file. However, an e-mail address cannot be changed because this is considered as an employee's individual feature.
Please note that dependencies (e.g. superiors, colleagues) have to be changed manually.